We Would Love To Hear From You!
A Must-Have for Parents and grandparents! Linda Arnold is absolutely one of our family's top three favorite children's artists. The lyrics are FUN no matter how many times we listen to them. The music thoroughly enjoyable even with great repetition. Her voice is clear and well pitched. My son, who is 10, still enjoys putting the cd into the player. If you're looking to avoid "cookie-cutter" music for your kids this collection, or any of her others, is exactly what you're looking for.
This one of the best children's' CDs ever made! All the other great ones are also sung by Linda Arnold. You should see the joy on any child's face when we play Linda Arnold's music such as "Make Believe". Her songs are all magic.
Imagination is the key! Linda is a wonderful, imaginative, and dedicated children's musician. Her songs are full of life lessons and delight for both parents and children. She reminds me often: "Life is like a cake that only you can bake. And what you put inside is in the bite you take!" Grandfather T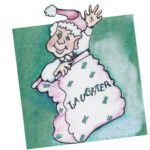 Great Music! I have listened to Linda Arnold for years and my daycare kids love her. She continues to be a great addition to my daycare program